Our Communities
Families That Work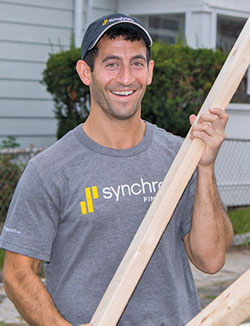 We want to make a real difference in the world — and we're starting in our own backyards, in communities where we live and work through investments, volunteerism, and grants.
We launched our Families That Work corporate citizenship program in 2016. Every day, families are working hard, but sometimes unforeseen circumstances can get in the way. In 2018, we will expand this program through the newly created Synchrony Foundation, which will work to improve economic viability among working families.
Families That Work tackles the basic needs of today's working families: safe and stable housing for those who are homeless or on the verge of homelessness; childcare for parents who need a safe place for their children while they work; and economic security so families can move ahead.
In addition, we address affordable housing needs in accordance with the Community Reinvestment Act (CRA) while providing critical resources for families seeking better skills and living wage jobs. Our CRA initiatives extend this program into our communities by making loans, investments and grants.
"With the grant from Synchrony, we were able to provide emergency financial assistance to the case workers from our partner agencies. In 2017, we prevented more than 300 families, including more than 600 children, across the state of Connecticut from homelessness."
— Lisa Tepper Bates, Executive Director, Connecticut Coalition to End Homelessness
In 2017, nearly 5,000 employees volunteered over 35,000 hours, making a direct impact on our communities.
Hands-on Help
Our citizenship program is helping more than 150 nonprofits in the communities where we work. Organizations like buildOn, the Connecticut Coalition to End Homelessness, United Rehabilitation Services and the YWCA Metropolitan Phoenix benefit from both Synchrony grants and employee volunteer efforts.
Volunteer projects range from building houses and preparing meals for the homeless to teaching financial literacy skills to income providers of families and providing homework help to struggling students. All employees are provided with paid time off for volunteerism, and we match their donations to eligible nonprofits.
Building a Better Future
Synchrony wants to educate the next generation of leaders about business and doing good work in the community. We're helping national nonprofits like buildOn break the cycle of poverty, illiteracy and low expectations through service learning programs. And we support efforts by Girls Who Code to close the gender gap in technology through education.
Supporting Small Businesses
We recognize that small businesses play an important role in our communities, but may not always have access to resources they need to grow their business. One way we're helping is through our Working Forward Small Business Awards. Launched in 2016, we've now doubled the size and awarded $20,000 to 10 small businesses — $10,000 to invest in their business and $10,000 for a community project. This is just one of the ways we're helping approximately 70,000 small business partners continue to play an important role in their communities.